Have a goal of identifying all of the beautiful Clematis' that I have in my gardens this year!   Here are the ones blooming so far!
1)  ??? – Purple flowers.  On right side (east) of garage doors.  Only third year and quickly climbing garage.   Transplanted a baby plant the other side of garage doors.  Hopefully, can train them to grow up each side and meet in the middle.
Update:  After looking at lots of photos online, my guess is this is the "macropetala Jan Lindmark".   Check out this page and let me know what you think:  http://www.taylorsclematis.co.uk/clematis-jan-lindmark.html

2) The President – On west side of garden shed.   Pruning: Type 2.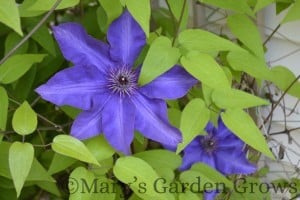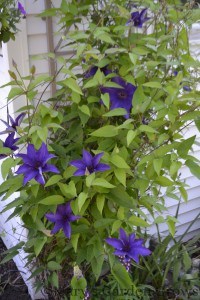 3)  ??? – Pink Flowers.  On back side of pergola.   Hagley Hybrid or Pink Fantasy??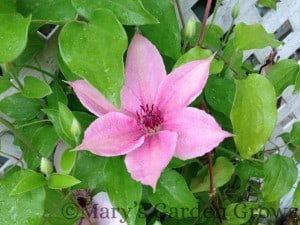 4) ??? – Fushia/Dark Pink Flowers.  On right (east) side of garage arbor.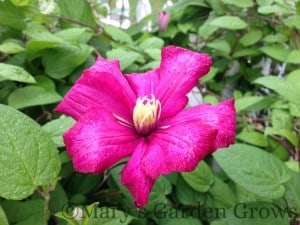 Waiting for blooms:
??? – Front of house between bedroom windows – Big Light Purple Flowers
??? – Side of garage left side of arbor with the "Carefree Delight" rose
Sweet Autumn Clematis – Fence garden with climbing rose.   Pruning: Type 3
??? – Along fence
??? – Tree behind pond
 And several more!